---
02 Pics N Slips
---

.
---
.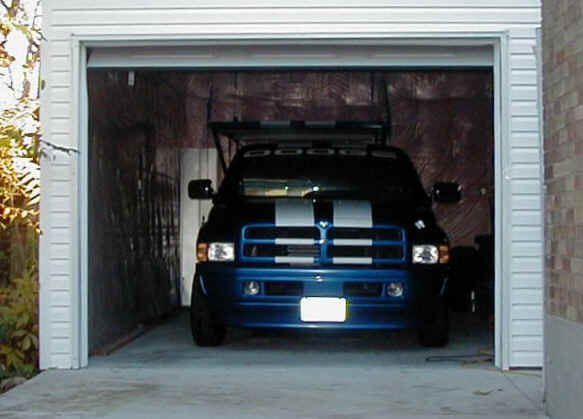 Lots of plans this year, how much gets completed we'll see
---
02's Plans
unexpected rebuild of the tranny (ouch) completed

Auburn High Performance Series L/S Diff Pt#542070 completed

M1/2b intake P5007398 just in, springs, retainers, rods n gaskets

MP Cam P5007551 272/278 (208/216 @050)

Intake mods for Ramair

Shocks all the way around

install race bucket seat completed

replace M/T Street Ets installed

replace Good Year Eagle GTIIs
---
Pics n Slips to follow as the season progresses!!
---
I'll be getting some base #s after tranny and rear end work. Could see a bit of a loss. This new Auburn diff is pretty beefy compared to the suregrip
Quite a few parts have arrived now, still waiting on porting templates. Also ordering double roller chain. May have a tb from the wreckers.

Pedestals arrived so I'll be replacing the seating with something sportier. Race bucket and 5 point harness. Using it as a 4pt (no crotch strap). Help drop the weight a bit more. Shooting for 3800lbs.
---
| | |
| --- | --- |
| Spent 4 days drilling and grinding off all the excess parts on the pedestals to get them down to what you see. (driver's side as well) Cross bars need to be milled down about 1/8" plus need to drill out the rear rivet and bolt the back bar down (front bar bolted though not in this pic). Also have to add the clip for the seat belt and then paint. (holding off on the 5point harnesses for now) Maybe have both seats in for the truck shoot out but probably wont have time to paint them before. | |
Work on the pass. side race bucket now completed except for paint. Though not a lot of difference then this picture I will upload the finished installed pics later this weekend.

June 2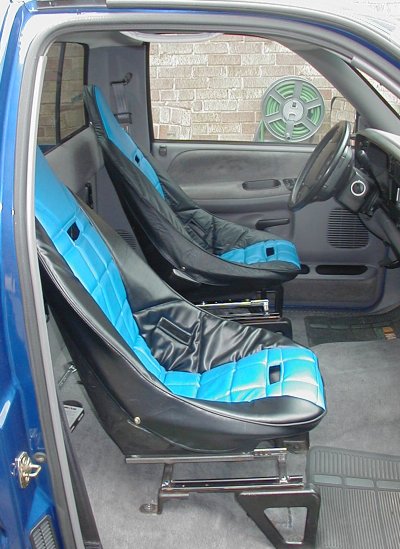 Both buckets now in, June 6 02
---
June 8th 02 London Motorsport Park
---
Things were really tight for the truck shootout.
Tranny only had about 300miles since rebuild
Diff n torque converter almost had 200miles.
Best time for the day, 14.39 with most in the 14.5 range and a crasily spinning 14.7 worst. I hate that track. I get better traction on the fricken street!
---
Toronto Motorsports Park July 20th (test n tune)
---
Well Cayuga finally opened and wild horses would have been needed for me not to show up.

Only one lane open as they hadn't finished grinding the concrete on the tower side. The guys from the IHRA broke the equipment 1/2 way threw the tower lane. Didn't matter. Was real happy with the track surface, concrete walls down 4000' to the end. Burnout area seems to be a bit shorter now and is 60' back from where it was. Need a gas station for the shutdown area its so long I didnt really need brakes, few Spro got in shit for not using their chutes. Truck ran exactly what I expected with the new diff, tc and rebuilt tranny. (what it should have run at London)

I ended up at the track on the heavy side with a hair under 1/2 tank of gas. Conditions were very good with 90deg temps but low hum and hi baro and a 5mph+ tailwind. I made 5 passes, 3 w/tailgate n pass. seat. (one pass with gate 3/4 down) Street trim she ran 14.30-14.36. Race trim only 2passes, 14.19 and 14.24. Short times are off though, only managed one under 2.0.
---
Wife n I got tons of pics with the digital. 02 Ram QC 4x4(17.9) 01(?)Vette 12.9 , 6sec dragster, Best action shot wasnt a burnout but when the wife and I were at the far end of the track under the timing tower. I parked about 15' from the concrete track,wall just past the finish line and was standing in the 4x4 bed shooting pics of the start area, tower n stands. A jet car lit up at the other end and made a full pass. Got him at about 900-1000' doing 250+mph. Because we were so close it was a real rush as he went by. Wife commented on the goosebumps on my legs n arms. (90deg) Track moved the fencing much closer now that theres concrete all the way down. Before it was about 50' from fence to guardrails.
---
Aug 17th 02 DTO meet @ TMP
Conditions were 90+f with high humidity and low baro. Tailwind helped poor conditions
Things are starting to come back now. Sub 2.0 sec short times with the ets very consistant. Going out on Aug. 31 or Sept 1 for some bracket racing. Need to do some real racing instead of the test and tune. Here's a few slips from the morning and afternoon. Afternoon air improved a bit as did ets.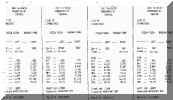 ---
Labour Day Weekend TMP Aug 31
Conditions:

Temperature, 87F with high humidity of 84%+ and baro at 102. A crosswind of about 10mph+ that turned to an occasional headwind.
| | |
| --- | --- |
| Truck running good, fairly consistant #s. As usual the times picked up later in the day. Round #1 I dialed my fastest TT pass 14.23 and had to get on the brakes running down a Chebby 1500. Rnd one win with a .59rt running a .235 on a .23 dial. Round 2, 2hrs+ later I pushed it and red lighted with a .488 rt. Even backing out of it just before the 1/8 I still ran a 14.29 on a lower 14.20 dial. Short times almost back to normal with a couple in the 1.95. 1/8 times coming back also. 2 passes under 9.0 with a 8.89 best (prior 8.88) | |
---
Painted Seat Pedestals

Both sides are now painted and clear coated. They turned out pretty good and look a lot better than they did black with rust showing.
---
Sept 28th J&P Performance Meet TMP

Track conditions not the best for my truck. Headwind and cold. Most passes I spun off the line

Managed to run slow (14.302+)but came home with cash. Made it to the finals in the street/et class. Couple good lights, couple lucky runs but outraced myself by increasing dial at the end. Semi I dialed 14.30. Increased it to 14.38 for the final round. Traction was getting worse and temps were dropping. Headwind up n down. Broke out running a 14.302
---
Oct 26 last DTO meet at the track

As usual its been a pleasure meeting up with HP all season and a few others that have been joining us. Hopefully next year we can get a few more out to join us on the track. My truck doesn't like the conditions we had at all but it was still a fun day all n all. Mid 50s temps, low baro, hi humidity with a damp track and a bit of a headwind. My 60's were off by a huge .25-.5 sec!! Ets were off by .5 seconds +. Traction in cold weather is a real issue for my 96 with its super low weight (for a Ram) even with 12.5" ET Streets on. I had to lift off the gas 4 times threw 1st n 2nd first pass out (15.6 ) Even got a bit twitchy going into 3rd gear on a couple passes. Couldnt load the tc past 1600 and had to wait till 2nd to roll the gas on to WOT. WOT caused spin every time in 1st gear no matter how slow I rolled the gas.

Days Highlight. Towards the end of the day a couple of guys HP n I were talking to with 01 Lightnings lined up with us. I ran a Red one from the old tower lane with HP and a black 01 in opposite lanes right behind us. After treeing his eyes out I had 5+ lengths off the line. At the finish I still had 4lengths on him. Only started to gain on me in the last 200'. He crossed the line .4 seconds behind but had a slightly faster et. His 14.70@99 to my 14.75@94. Temporarily misplaced the slips (not that the ets were any good) but will still add some of them for giggles.

Big thanks to foley r 666(spelling?) for getting mpg vid of it and some still of us as well . You can see the vid of it by going to the video page
---