Welcome to
Ram Man's Garage
---
---
The One, The Only, RAM MAN, DodgeTalk moderator extrodinare

Some of you may have noticed a huge change in Ram Man's ride. Well your right! Click the pic of his new look to see just how much. Great job there, looks sweeeeeeeeeetttttt!
---
---
Sweet looking rollpan with exhaust cutouts now grace the back end of this great looking Ram. To see how it looked before click the pic.

Two thumbs up for the work outback, dramatic change that looks very clean.

RM Indy
---
---
98 Dodge RAM 1500 SLT Quad Cab
Truck Mods:

K&N filter

Mopar Performance PCM

QuickD TB

Magnaflow Hi Flow Catalytic

Magnaflow Split Exit Catback
with 3" connector to cat

180 deg thermo

Kenne Bell power pullies

MOPAR HI PERFORMANCE WIRES w/NGK plugs

ROYAL PURPLE SYNTHETICS

Rear anti-sway (HELLWIG) bar

2" dropped (Chassis Tech") shackles

Polished Alum billet wheels

RAM "Sport" grill (same color as the truck)

50W Halogen back up lights

PILOT driving lights

bedliner

Alum billet "RAM" 3rd brake light cover

VTECH RAM tail light covers

VTECH front marker masks

TRENZ stainless steel dash kit

"RAM MAN" plated
---
---
Trak Lok posi

4.10 Geniune Gears

"Mr Concept" Polished Alum diff cover

Sport mirrors painted and installed

Grille and bumper inserts

Freshly painted Stripes in

Tail light covers painted black metallic
Shaved, emblems/decals/tailgate piece/side molding
Reflexxion Cowl Induction Hood
Race Truck Trends bumper cover w/frenched in lights
Mopar hard tonneau and underseat locking storage
---
---
---
---
Upcoming Mods
-----------------
---
And whatever else tickles my fancy between now and then !! If you'd like to contact the RAM MAN he can be reached at magnumram@hotmail.com or by joining up to his favourite Ram chat

---
I saved my favorite picture for last!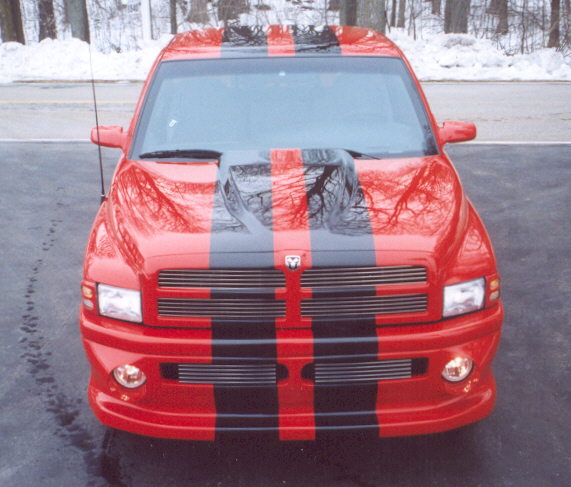 Late breaking news......Not only major exterior but he's done the interior also. Pics added, link above!
---
Thank you Ram Man for sharing these really shots of your 98. From the first shots 2yrs ago to now I hardly recognize your truck from its humble beginnings. LOVE WHAT YOU'VE DONE, LOOKS GREAT! Congrates on putting together a wicked looking ride. Look forward to seeing what's next buddy.

RM Indy