Welcome to
Jerry W's Garage
---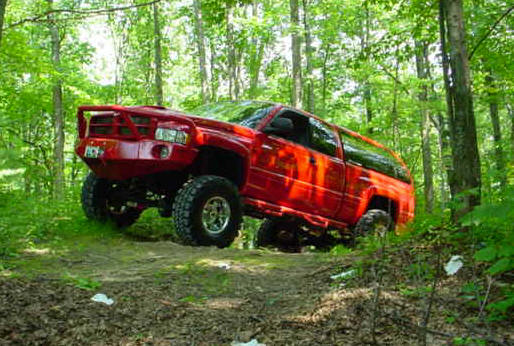 99 Ram 1500 Q/C
5.9 4x4 Sport
---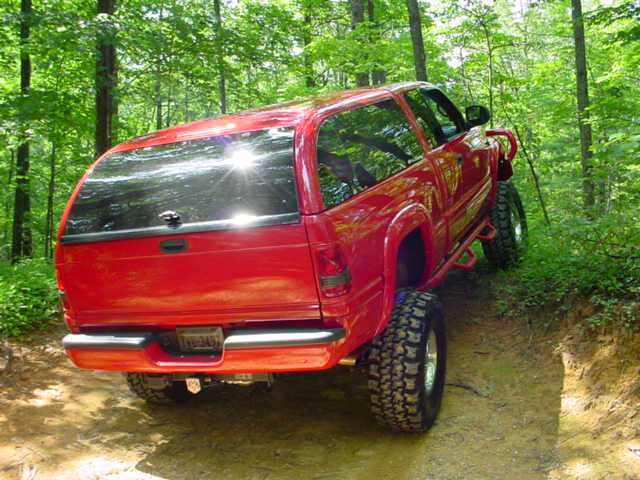 Jerry recently switched his 99 from tow duty to a capable hill climber
---
Truck Mods:

K&N Gen II

Magnecore 8.5mm wires

Mopar Hi-Po computer

180 thermostat

Gibson/JBA stainless headers

Gibson Sport Truck stainless cat-back

Weld 16x8 Scorpions

Mickey Thompson MTX Radials 285/75-16

Edelbrock IAS shocks

Lund Cowl Shield

Xenon fender flares

Stainless SmittyBuilt nerf bars

SnugTop Top Gun Cap

w/ matching BedRug

Xenon fender flares

Nak/McIntosh/Focal sound system

w/ JL Audio center seat cushion
Stealthbox

mod list to be updated
---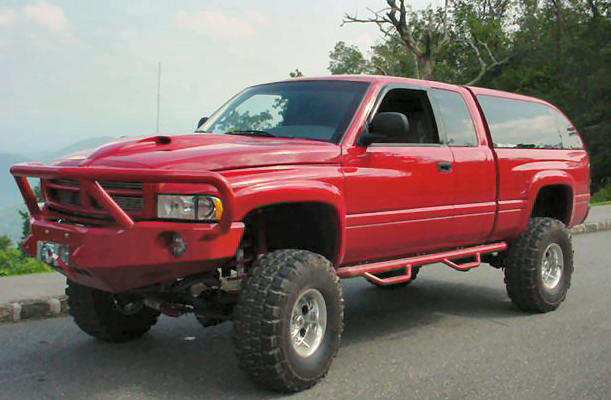 Jerry has transformed his 99 into a wicked looking rig!
---
Hi there, I was just enjoying your site and I'm very impressed by your performance. Seems like you've made some good increases without getting too radical. I'm a racer myself except my ride is a 70 GTO that has just underwent a 5 year frame off project and is now a trailer queen. Best times at 880' elevation-11.57@118 all motor, all steel, w/ac 4050lbs. I considered the purchase of my 99 Ram 4x4 as a racing expense as it fit the bill perfectly for a tow vehicle. Since the first 12 months of ownership I've managed to tweak it as much as possible to suit my personal tastes without totally screwing up my warranty.I ordered the truck with all options minus leather. Then with only 20 miles on the clock the following mods were done-Stainless SmittyBuilt nerf bars, Gibson/JBA stainless headers, Gibson Sport Truck stainless cat-back, Weld 16x8 Scorpions, Mickey Thompson MTX Radials 285/75-16, Edelbrock IAS shocks, Lund Cowl Shield. Three months later, SnugTop Top Gun Cap w/ matching BedRug, Xenon fender flares, Nak/McIntosh/Focal sound system w/ JL Audio center seat cushion Stealthbox, K&N Gen II, Mopar Hi-Po computer, 180 thermostat, Magnecore 8.5mm wires. I would appreciate it if you could find room for a pic or two. If I ever find the time to play with Front Page I will make use of my free 5mb of webspace. These pics were just taken the other day fiddling with a friends digital camera so they are not that great and the truck had not had a bath in 3 weeks. Thanks and feel free to ask me any questions. Jerry W gtojerry@lynchburg.net

PS. UPDATE COMING, RM Indy Thanks for sharing that with us Jerry! Track stories get brownie points around here :).
---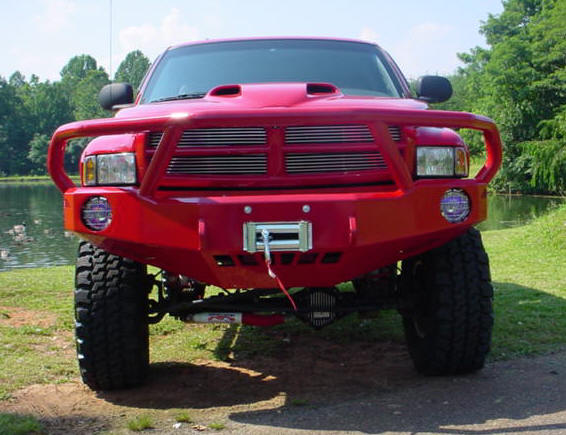 You come up on a beast like this on the trails, do what the rest of us do, dive for the bush!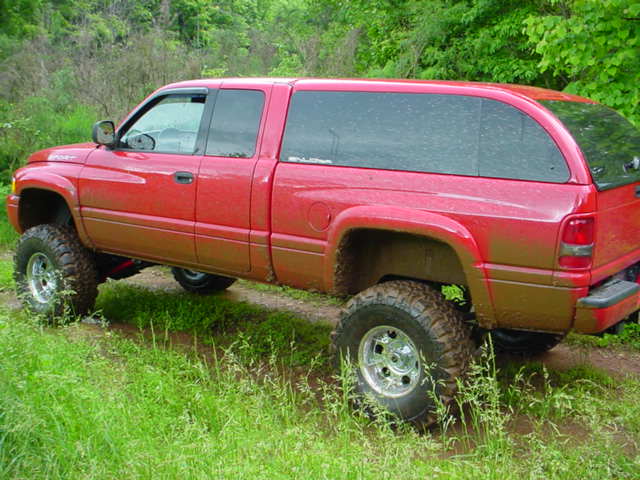 Talking about impressed, now thats how you go offroading!
---
Thanks for updating, LOOKS GREAT!!! Nice job on make a real sweet looking offroader. RM Indy
Click below to return to