---
98 Pics N Slips
---

.
---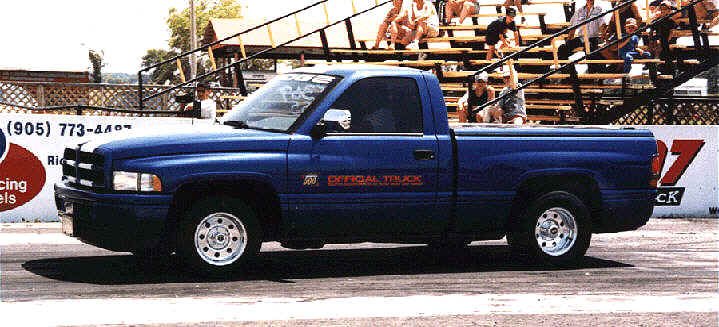 New look and attitude this season
---
98 Completed Mods
2x4 Belltech lowering springs, shackles n hangers and nitrodrop shocks
Cross drilled rotors and carbon/metalic pads
Transgo Stage II with synthetics in the tranny
Weld Drag Lite rims 15x7 Front 15x8 Rear
M/T Sportsman Front 28x7.5"-15 (reduced rolling resistance)
M/T Et Street slicks 28x12.5"-15 (increased traction, lower final of 3.88, driveline weight reduction)
Jet Stage II (pulled by seasons end POS)
Edelbrock alum. split exit rear catback
gear changed to 3.92/4.18(on ets) before the July Mopar meet
---

---
Gambler's Race Spring 98

Not enough racers showed early in the season so they ran a Gamblers Race. All chipped in $20 regardless of class & off we went.
Rnd. 1 Win against SPro that ran 8.854@154.37 to my 15.562@87.58 He had a .618 to my .601rt. Yes he scared the S%*# out of me when he went by at almost double my speed. (gave him lots of room) Rnd. 2 Luck continued with a bye run. Rnd. 3 Another SPro! I cut a .534 with a 15.44 on a 15.40 dial. He red lighted on a 12.361 pass. Final Rnd Yep SPro again that ran 10.192@122.71 on a 10.21 breaking out!!
Giving me a surprising win with a nice pay out!
---
| | |
| --- | --- |
| I liked the look with the race rims n rubber, tractions killer now but the jet chip really bites. Couldnt spin the ets up as easy during the burnouts and it was bogging out of the hole. Pulled the Jet at seasons end. | |
---
98s best et was 15.13@89 with the 3.92 gears & et streets for a 4.18 final
---

.